​Three ways to stay safe this fall as a pedestrian
November 21, 2019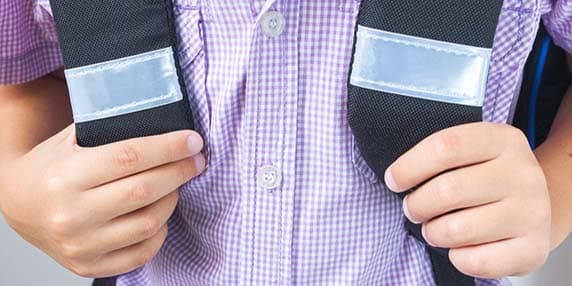 Crashes involving pedestrians nearly double this time of year, and part of the reason why could be due to visibility, or lack thereof.
When darker days and poor weather become part of the daily grind, it's naturally more challenging for drivers and pedestrians to see each other.
When you're out for a walk, carrying a light or wearing reflective gear can make a world of difference to help make yourself more visible.
But interestingly, while 70% of British Columbians agree that being more visible can help to stay safe, less than half actually do it*. If you're worried about being halted by the fashion police, or don't know what to buy, not to fear, we've found some items to put in your loved ones' stocking for less than $20 that can help light up the night:
Fabric tape: While your favourite black puffy jacket looks great and keeps you warm, the problem with dark-coloured clothes is that it does a pitiful job at reflecting any light that hits it. Without sacrificing fashion, you can artfully apply reflective tape made for clothing. Buy high-quality high-vis fabric tape so it sticks well to your jackets, boots, and helmets, and you won't have to worry about it coming off in the wash.
Reflectors: From friendship keychains, bus pass holders, and reflectors featuring your favourite hockey team, this underrated safety tool – the reflector – is making a comeback. Crashes with pedestrians are highest between 3pm and 6pm every day, when most of us are commuting home from school and work. Hang a reflector on your jacket or your child's backpack to help stay visible.
LED leash: Spot needs to be seen during those late-night walks, too! Try out a lighted leash to help guide your way and alert drivers to you and your pup.
Every year during the fall and winter, about 1,200 pedestrians are involved in a crash. While focussing on your surroundings and making eye contact with drivers are the most effective ways to avoid getting into a crash, what you wear can also help you to be seen.
Learn more about staying safe with ICBC's infographic and tips.
Enter to win
ICBC would like to help you stay bright at night. If you'd like to win a safety prize pack (valued at $100), email us by November 29, 2019!​

*Based on survey conducted by Insights West on behalf of ICBC and completed by 808 respondents in B.C.