​​​​​ICBC: Road safety speakers talking to Island teens to prevent crashes this grad season​
May 17, 2023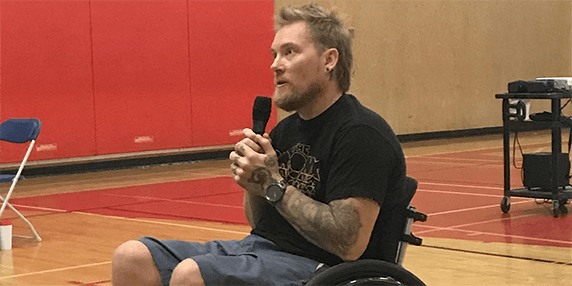 Novice drivers in B.C.'s graduated licensing program are 1.5 times more likely to crash than experienced drivers.* That's why two road safety speakers are travelling throughout Vancouver Island to share their personal stories and connect with high school students to help them make safer driving choices ahead of graduation season.
On Vancouver Island, 930 people are injured or killed in crashes involving teen drivers each year.**
ICBC road safety speaker, Kevin Brooks, shares his story of how one decision at 21 years old changed his life. After a night of partying, Kevin drove impaired with his best friend as a passenger. He lost control of the vehicle and crashed. Kevin was paralyzed from the crash and his friend was killed. Kevin bravely shares the consequences he's faced since the crash to show young people the very real life and traumatic consequences that can occur from making a bad decision.
Steve Serbic, Fire Chief of Esquimalt Fire Rescue Services, is also touring the region and sharing his experience as first responder at crash scenes.
"These presentations open up conversations with teens about situations they may face and support them in making smart choices for their future," said Shabnem Afzal, ICBC's director of road safety. "Car crashes have a devastating impact on our communities. Our road safety speaker tour is one way we're working to help youth develop strong decision-making skills, prevent crashes and save lives."
Media are invited to these upcoming speaker presentations on Vancouver Island:
May 17 at 1:30 p.m., Oak Bay High School, Victoria, with Kevin Brooks

May 23 at 9 a.m., Lake Cowichan Secondary, with Kevin Brooks

May 31 at 1:55 p.m., Lambrick Parkland Secondary, Victoria, with Steve Serbic
Please contact ICBC road safety coordinator, Colleen Woodger at 250-213-6070 to confirm events 24 hours prior to attending, as dates and times are subject to change. Please check in at the school upon arrival.
Facts
Last year, ICBC launched a free driving simulation app, Street Sense, to help new drivers recognize and avoid hazards while driving in a safe, online environment.

The top contributing factors for youth in fatal crashes are speeding (36%), distracted driving (23%) and impaired driving (20%).

Young male drivers are involved in crashes almost three times more often than young female drivers, particularly when speed or impairment is involved.

19% of drivers speeding in crashes resulting in injury or death were 16 to 21 years old. Yet these young drivers make up only 6% of all licensed B.C. drivers.​
*Experienced drivers defined as anyone over the age of 25 with at least 5 years of driving experience. Based on 2019 ICBC crash data.
**Police-reported data based on the five-year average from 2017 to 2021. Teen defined as age 16 to 19.